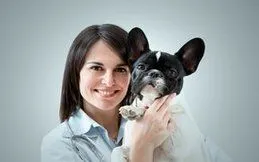 Although your older pet may still be very active and healthy, don't forget that your pets age every 7-14 years for every one human year and that his or her body has become more susceptible to kidney disease, thyroid disease, diabetes, arthritis, heart disease, failing vision and hearing, tumors(cancers), neurologic diseases, and a general weakening of the body. Instead of waiting until the appearance of one or more of these diseases, we can choose to be vigilant and to focus on all of the things we can do to make his or her senior years happy, healthy and enjoyable for the both of you.
We recommend the following:

*Twice annual wellness examinations where we can check hydration, skin, eyes, ears, nose, oral cavity, heart and lungs, lymph nodes, anal sacs, assess gait, check for lameness, and assess any neurologic abnormalities. We will make recommendations for any abnormal findings and generate an estimate for the cost of further diagnostics, treatment, and medical progress.

* A Wellness/Senior Blood and Urine Profile to help detect/confirm/predict infectious, endocrine, acute, chronic, or ongoing organ diseases.
Call 704-922-7607 or fill out our  printable form